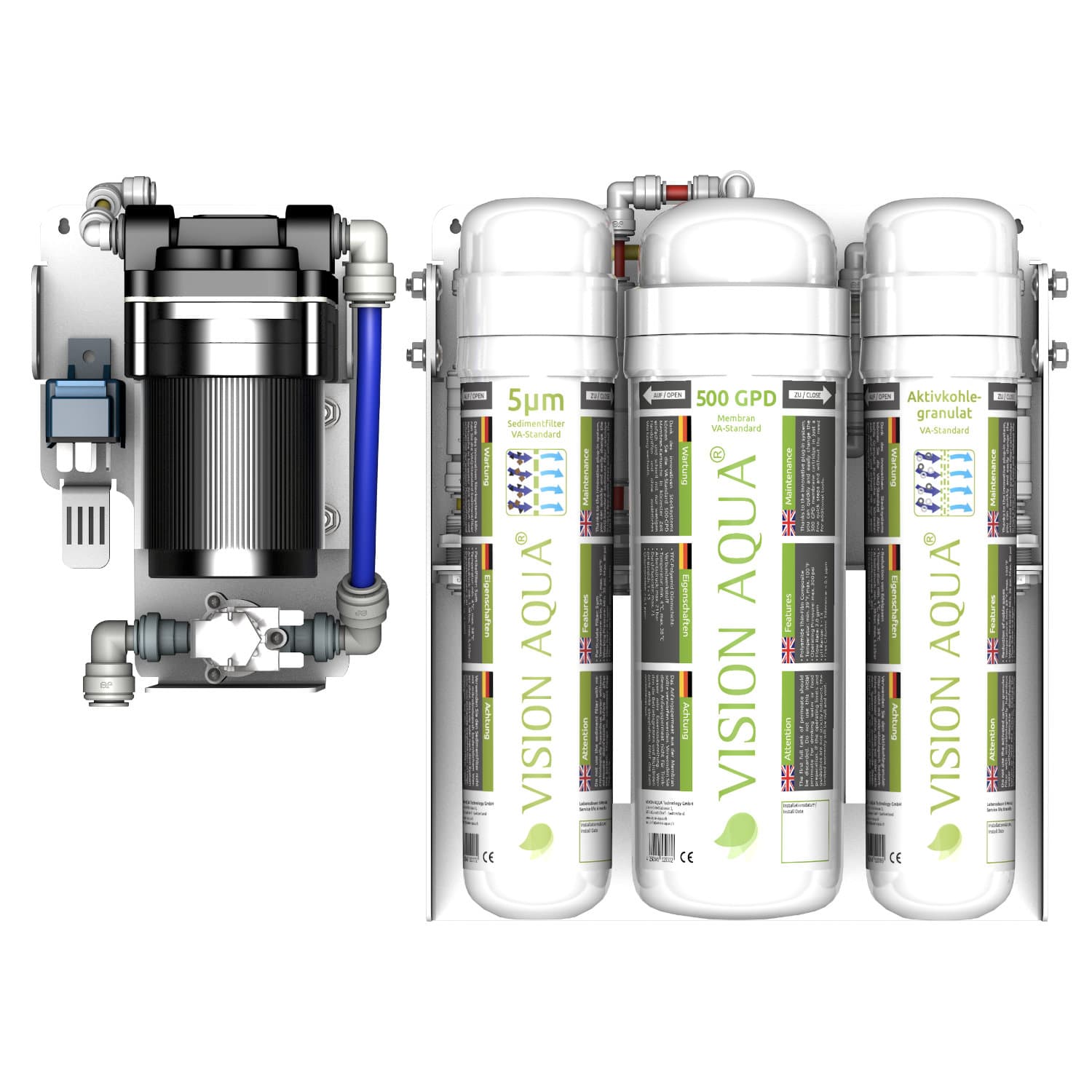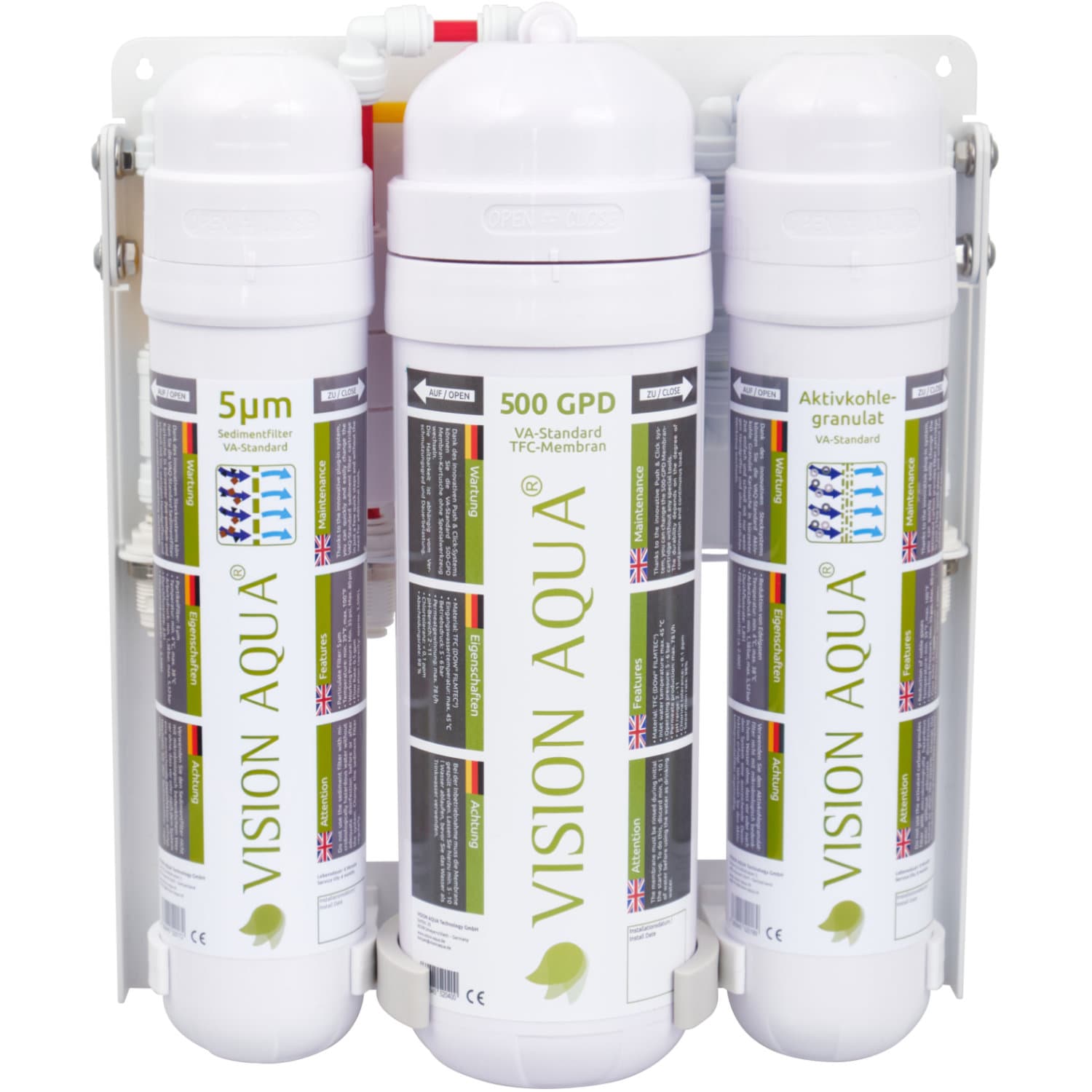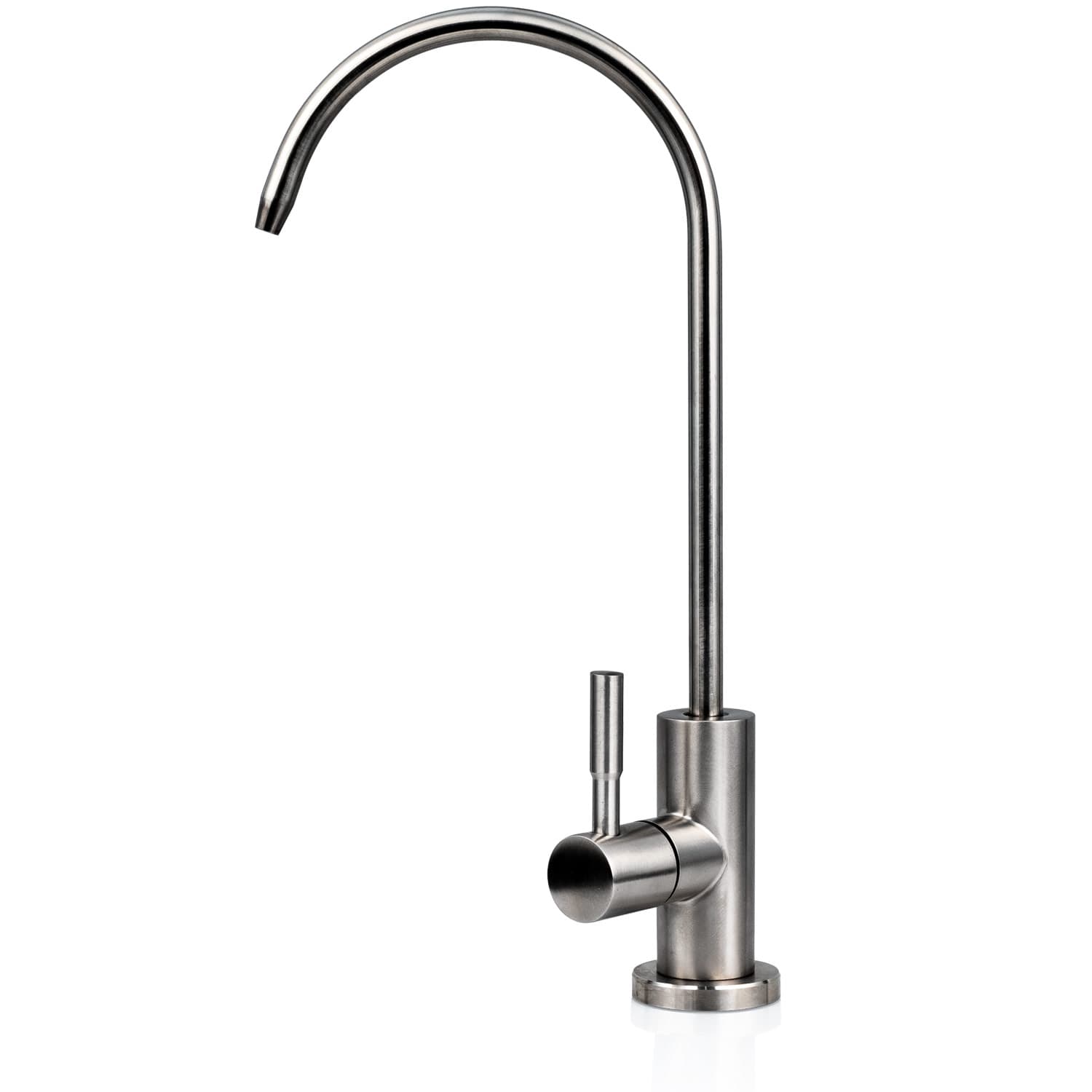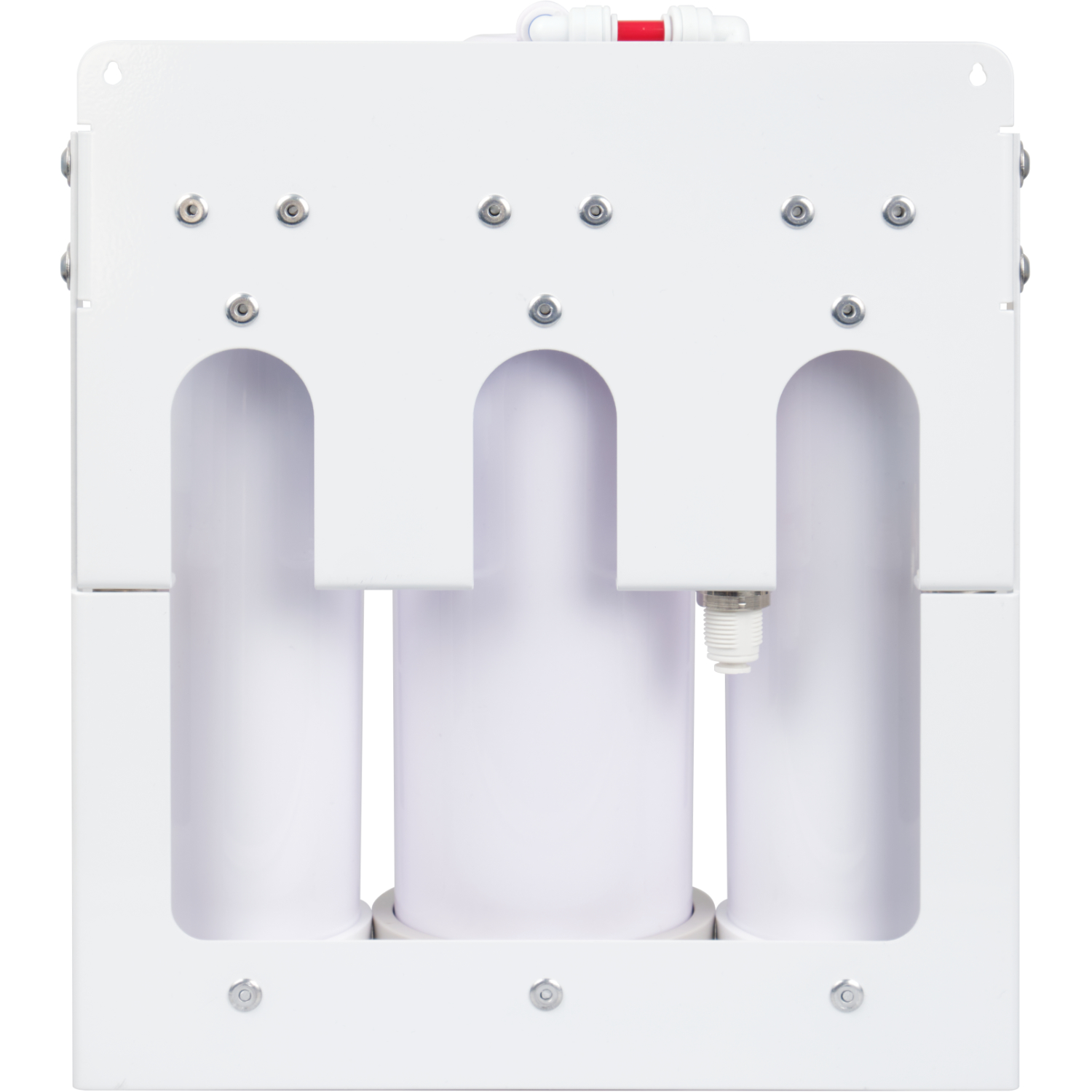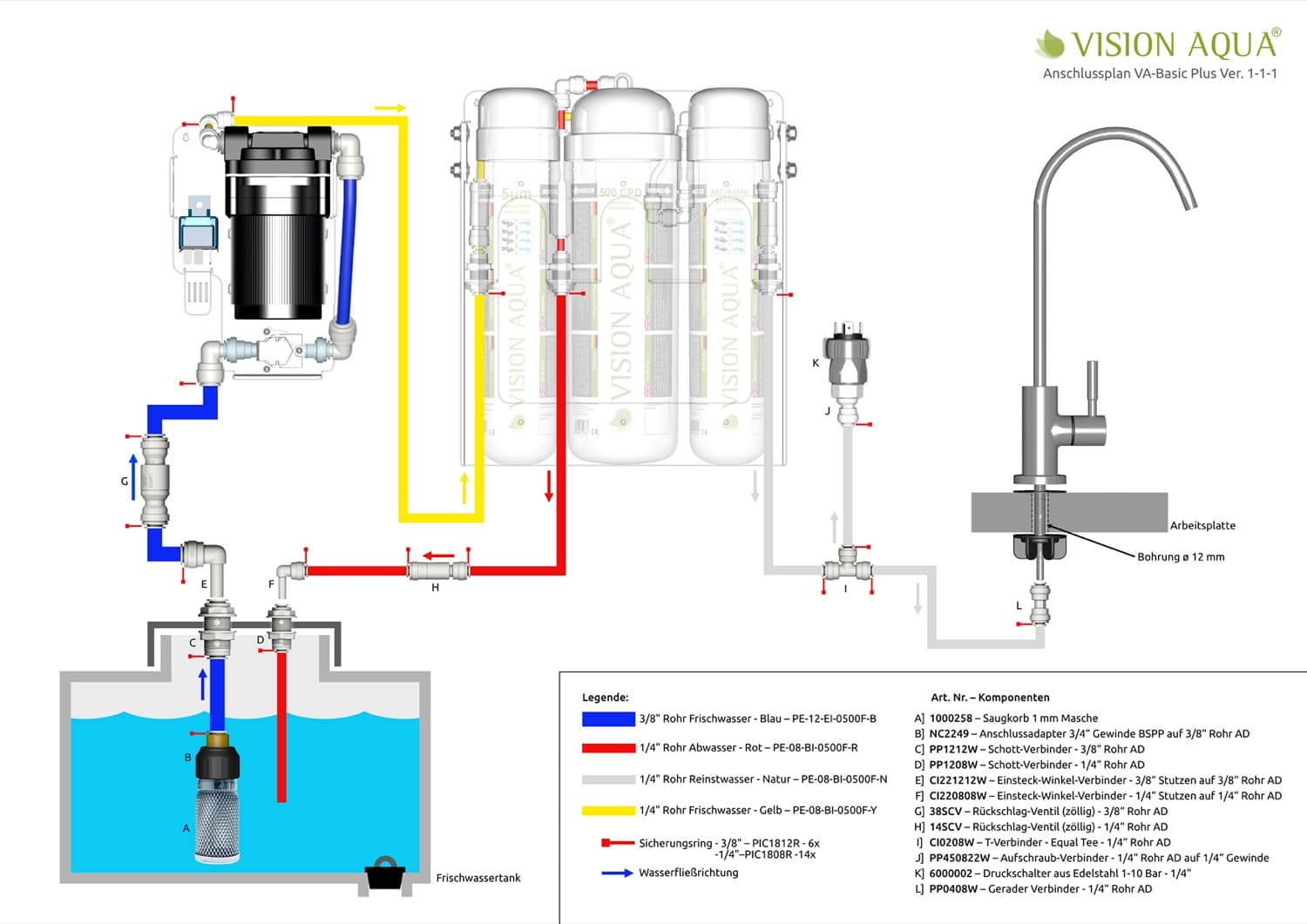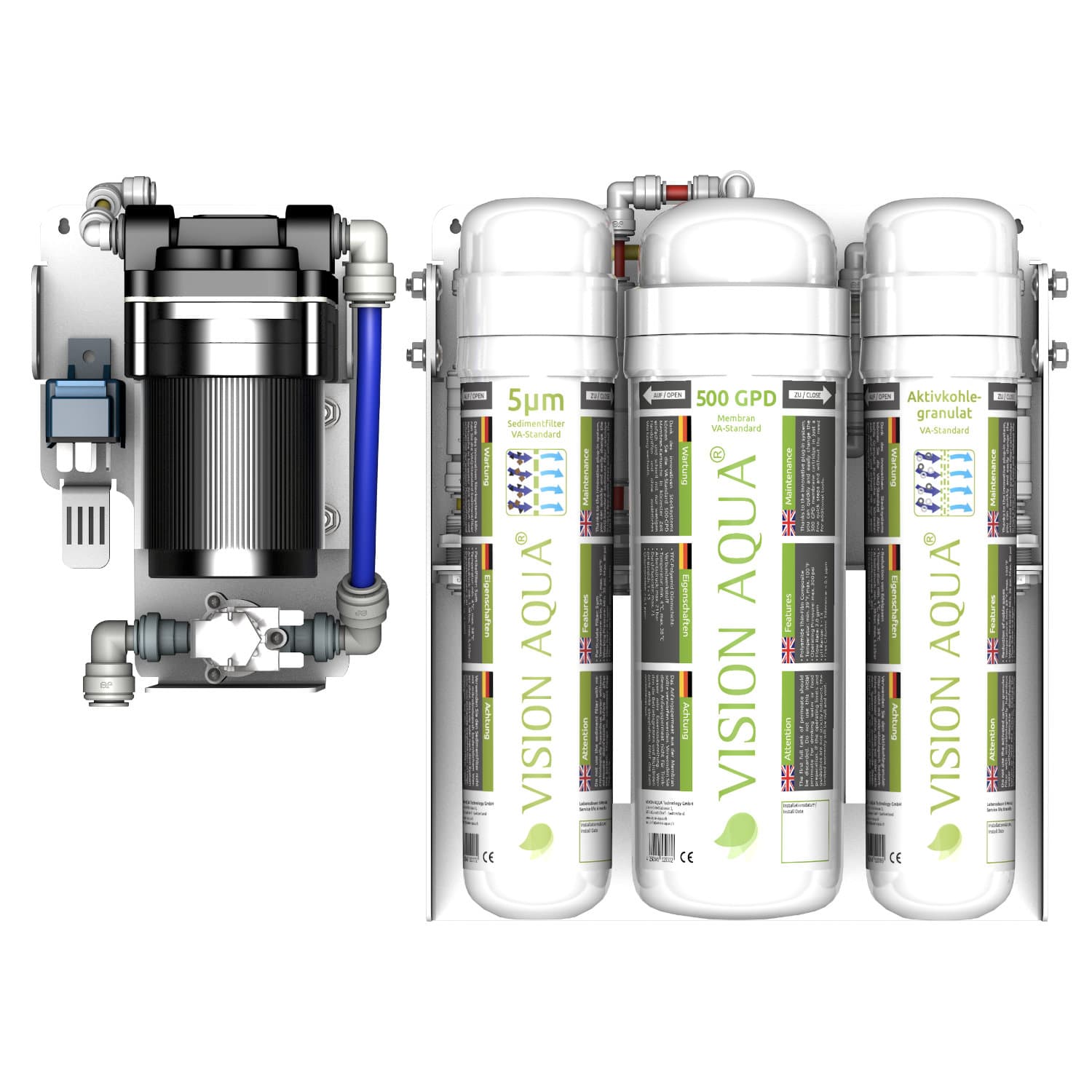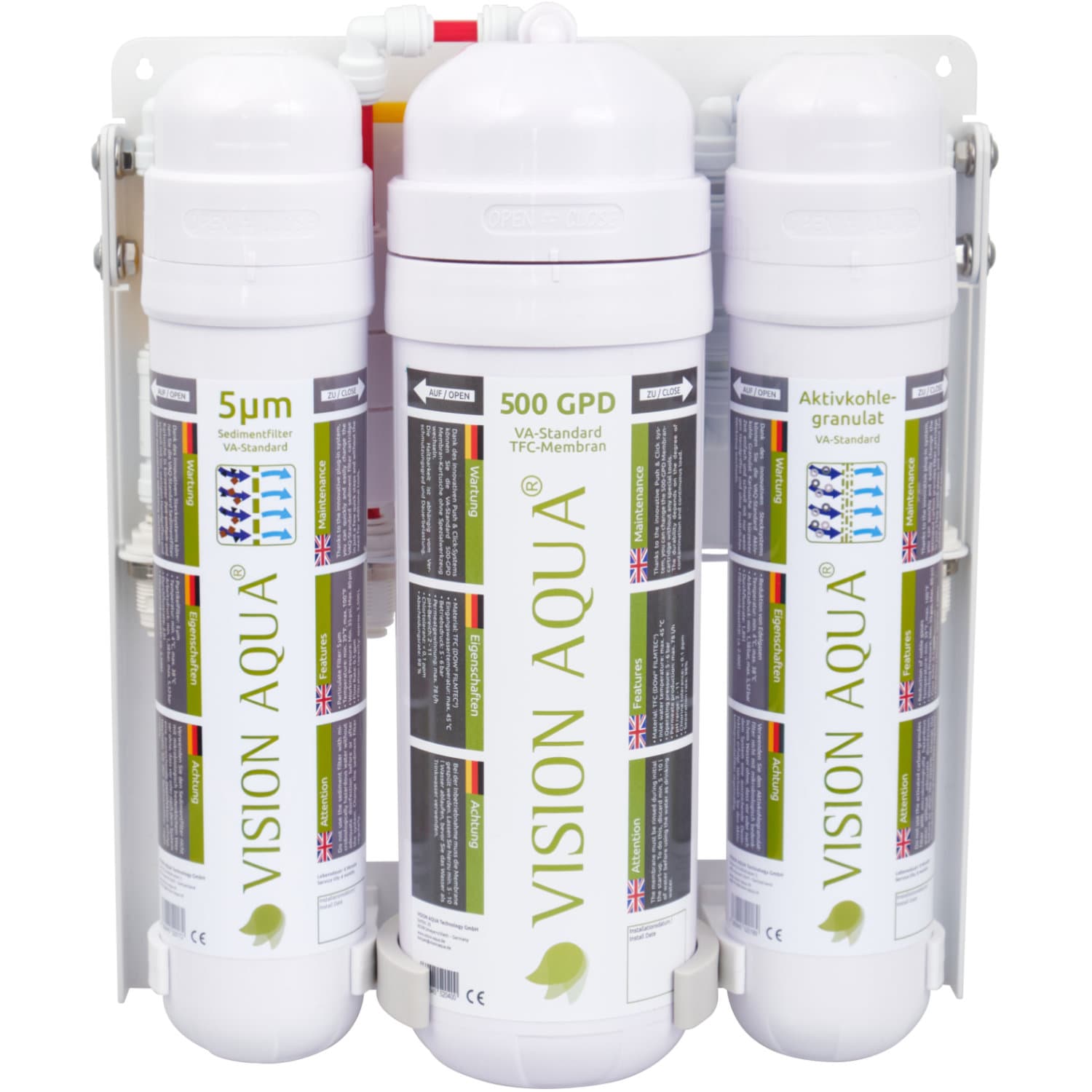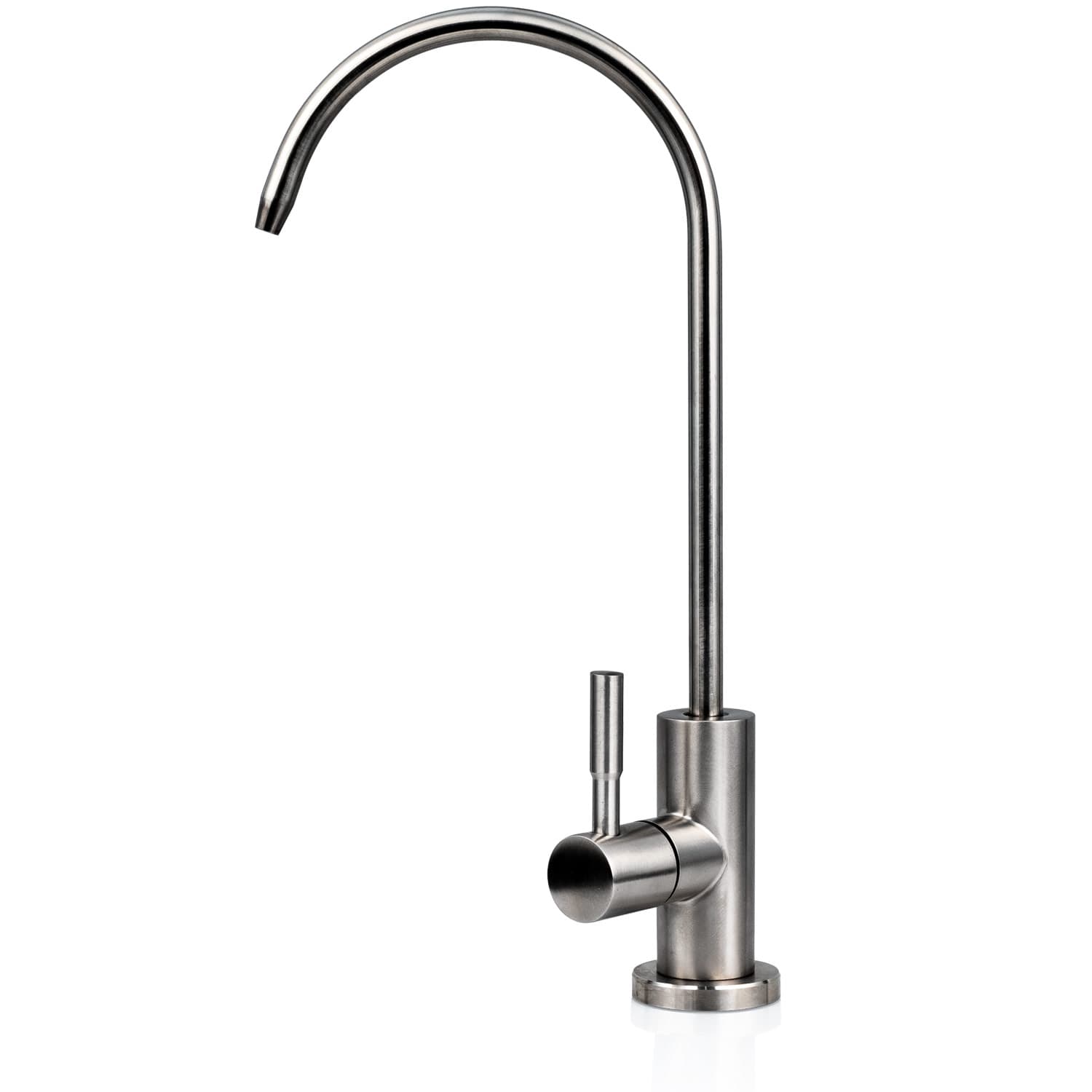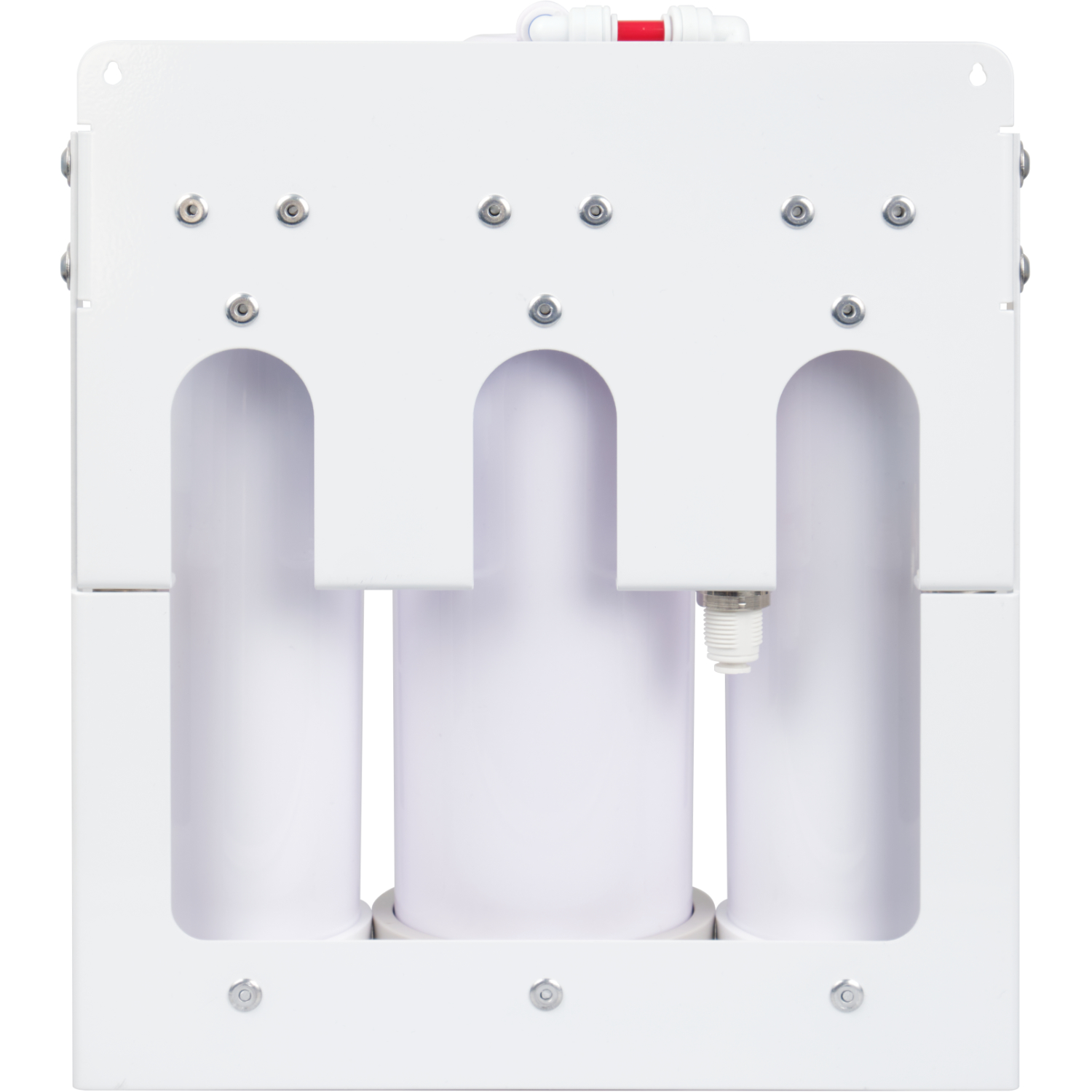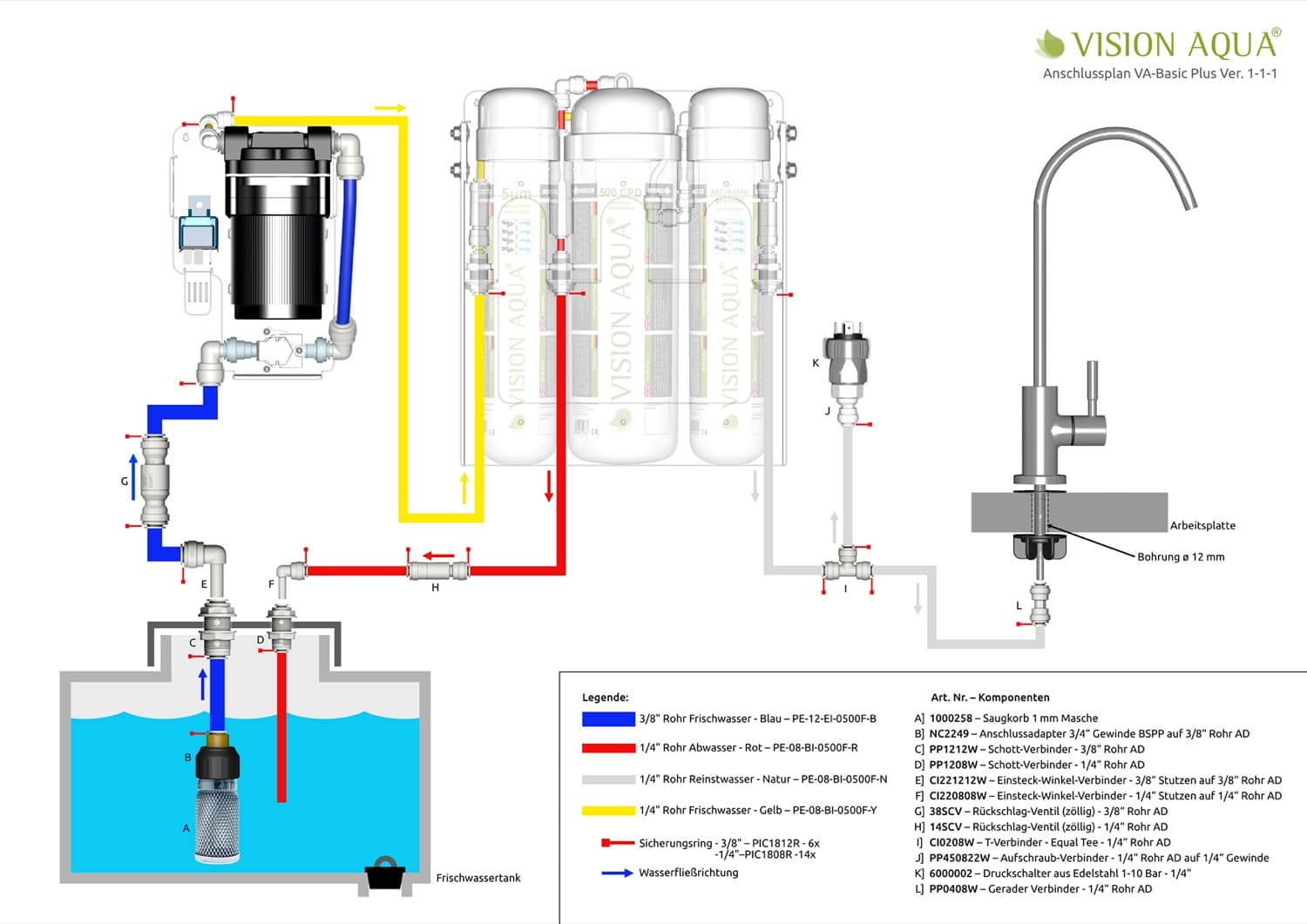 Available, delivery time: 1-3 days
Product number:
9000049.2
Manufacturer no.:
9000049.2
Choose the equipment variant of the VA-Basic PLUS water filter that suits you best now
VA-Basic PLUS water filter 12V is the most commonly chosen version for motorhomes. The scope of delivery includes a DC/DC voltage converter from 12 to 24 volts to ensure a flawless operation of the VA-Basic PLUS water filter at all times in case of a prevailing 12V onboard power supply.
Do you own a boat or motorhome with a 24V onboard power supply? Then the VA-Basic PLUS water filter as a 24V version is the right choice for you.
60
Purified water in liters per hour
1
Energy consumption in watts per liter
444
CO2 savings in kg per year
Motorhome Water Filter VA-Basic PLUS - Installation Video in German
In our installation video, we show you how to easily install the Motorhome Water Filter VA-Basic PLUS in your motorhome.
Just follow our step-by-step instructions to enjoy safe, clean, and delicious drinking water for your next camping trip.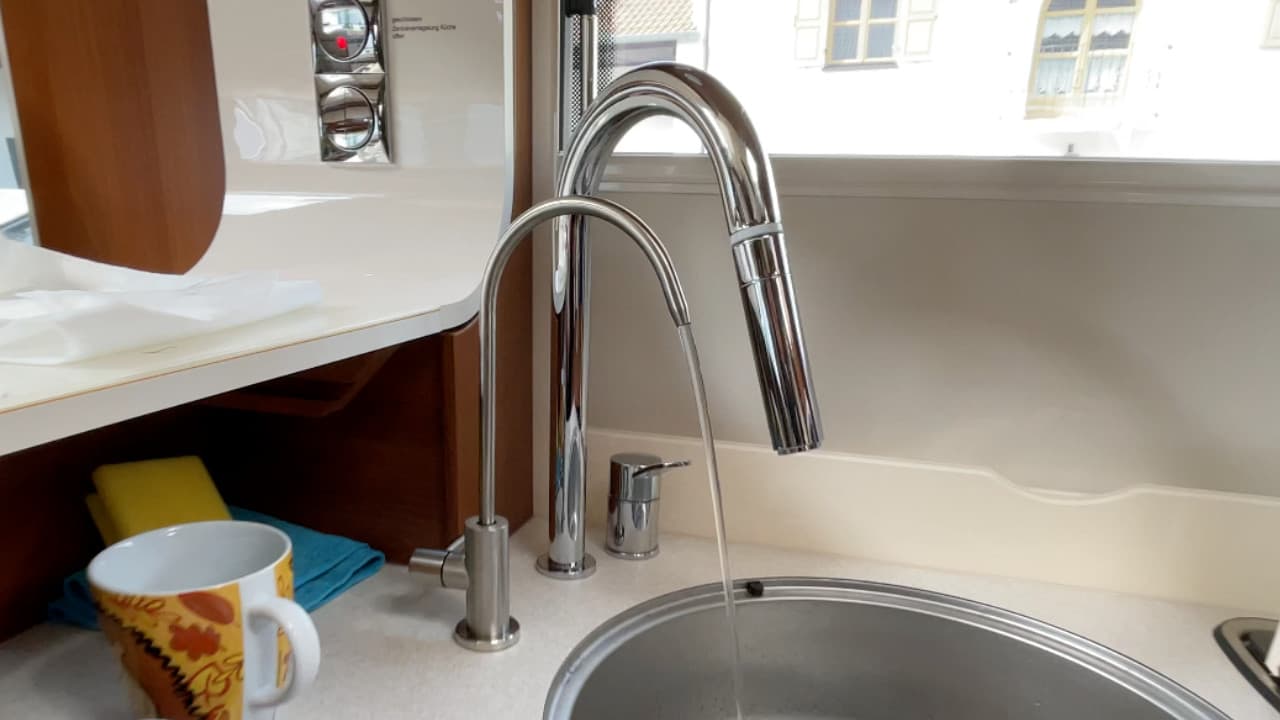 The perfect water filter for your motorhome
Traveling with a motorhome is becoming increasingly popular. Therefore, it is important not to compromise on safe drinking water.
The VA-Basic PLUS is a compact and powerful water filter for motorhomes. With it, your own drinking water supply is always secured during your vacation, no matter where you are and how the water quality is on site.
Thanks to its small size and flexible space requirements, the VA-Basic PLUS is ideal for installation in motorhomes. The system can be easily accommodated, as the individual components can be installed separately from each other. Extensions can also be retrofitted without any problems.
The VA-Basic PLUS is installed as a water filter after the fresh water tank and reliably removes all dangerous pollutants. This ensures that you, your family and friends can always enjoy safe drinking water.
Depending on the incoming water temperature, the VA-Basic PLUS produces approximately 1 liter of clean water per minute. The membrane diffusion principle retains up to 99 % of health-endangering foreign substances such as bacteria, viruses, suspended solids and sediments, as well as microplastics, and directs them together with the wastewater out of the VA-Basic PLUS. This ensures a consistently high drinking water quality, allowing you to access absolutely safe and clean drinking water at any time.
You can now enjoy your vacation with peace of mind and no longer have to worry about the drinking water quality. This makes the VA-Basic PLUS the perfect companion for your next camping trip.
Space-saving design and modular construction
The VA-Basic PLUS is a water filter that is characterized by high productivity and minimal dimensions. It consists of perfectly coordinated components that together deliver hygienically flawless drinking water.
Particularly noteworthy are the minimal dimensions of the VA-Basic PLUS, which are (W x H x D) 27 x 31 x 10.5 cm - comparable to three 1 liter PET reusable bottles placed next to each other.
The compact design of the VA-Basic PLUS allows for very easy installation in the motorhome. The system is divided into several modules and takes up very little space. The modules are designed to be easy to transport and install. All components of the VA-Basic PLUS are made of high-quality materials and designed for continuous use.
Another unique feature of the VA-Basic PLUS is its modular design. With the possibility of adding additional pre- and post-filters, you can customize the VA-Basic PLUS according to your needs and obtain the drinking water you require.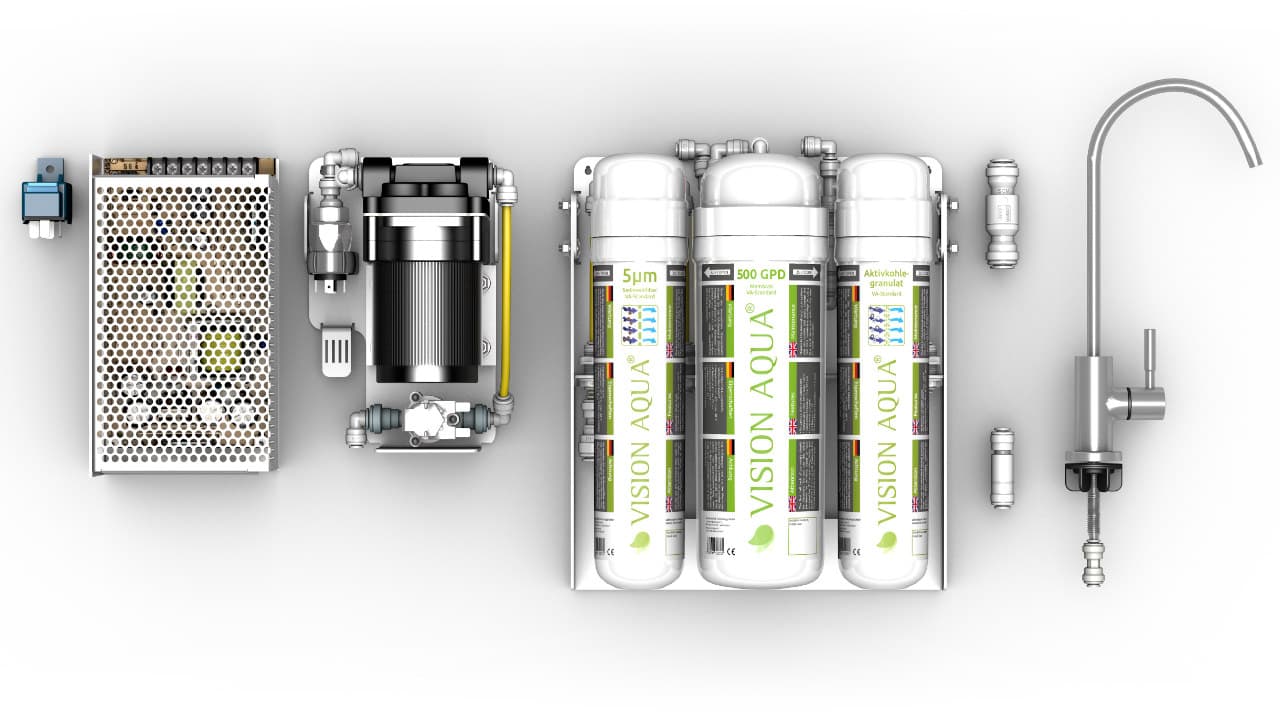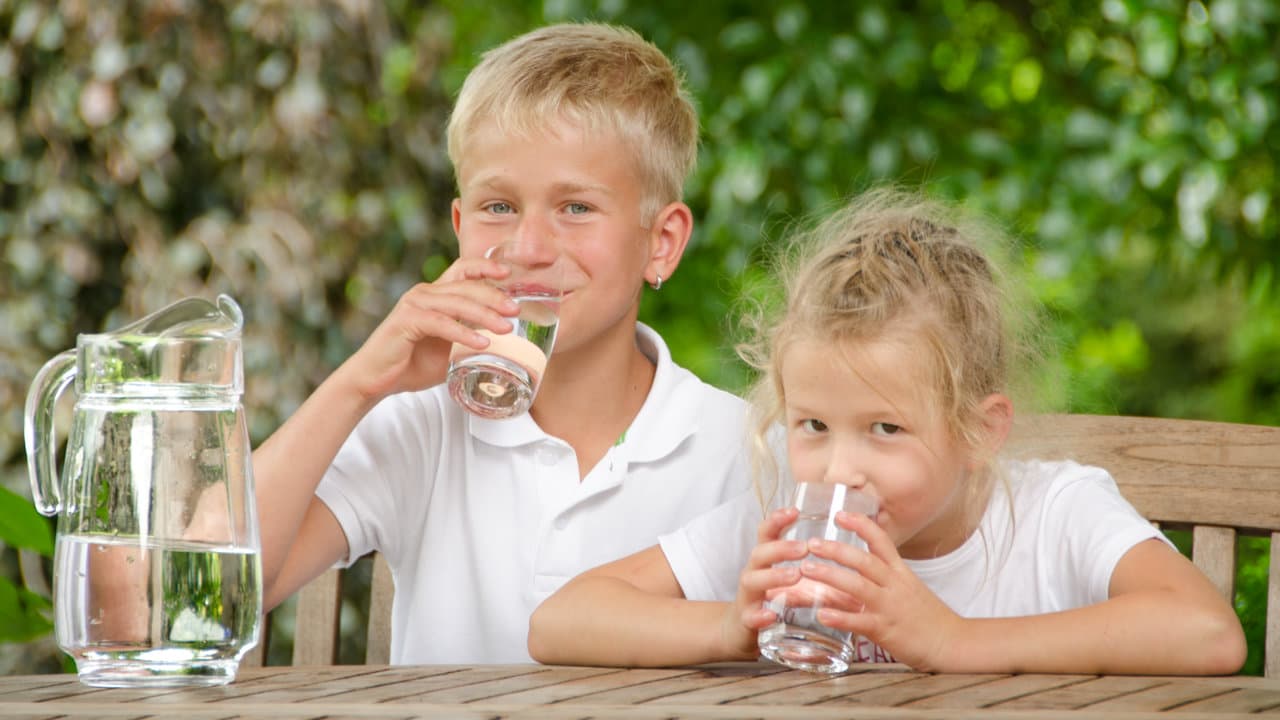 High level of safety
Water is the most important resource on our planet and should always be clean and pure. Many filter manufacturers promise with their products, which sometimes consist of only an activated carbon filter and are installed before the fresh water tank, that all foreign substances will be filtered out of the water and that the water can then be consumed without any concerns. However, activated carbon only filters noble gases from the water and improves the taste. All other harmful substances remain in the water. Not to mention that the water in the fresh water tank can spoil after a few days and then become undrinkable.
With the VA-Basic PLUS water filter, we have exactly the right solution for such problems! Safety is always the top priority for VISION AQUA® water filter systems. That is why the VA-Basic PLUS is also installed after the fresh water tank. This guarantees that you can always enjoy clean and safe drinking water. Stale water in the fresh water tank has no chance. Only reverse osmosis is capable of producing safe, clean, and delicious water free from any health hazardous substances. Up to 99% of all health hazardous substances can be filtered out of the water with the VA-Basic PLUS. These include not only bacteria and viruses but also microplastics, suspended matter, drug residues, and radioactive elements. Small and compact, the VA-Basic PLUS produces drinking water in the RV just as it should be - safe, clean, and delicious!
Save weight and storage space
The most important thing when traveling and on vacation with a motorhome is unrestricted access to clean drinking water. Fresh water tanks make this possible, but after some time algae, bacteria, and other microorganisms can form in them. As a layperson, it's also difficult to assess the quality of the drinking water at the dispensing stations. In the worst case, you would have to resort to water bottles to ensure the drinking water supply. However, nobody wants to spend their vacation in a motorhome cramped between countless water bottles.
The VA-Basic PLUS is the perfect solution for anyone who wants to always have safe and reliable drinking water available. With the integrated drinking water source in your motorhome, you not only save money because you never have to buy drinking water again, but also valuable storage space. This is made possible by the compact and modular design of the VA-Basic PLUS. Use the freed-up storage space for more important things than water bottles.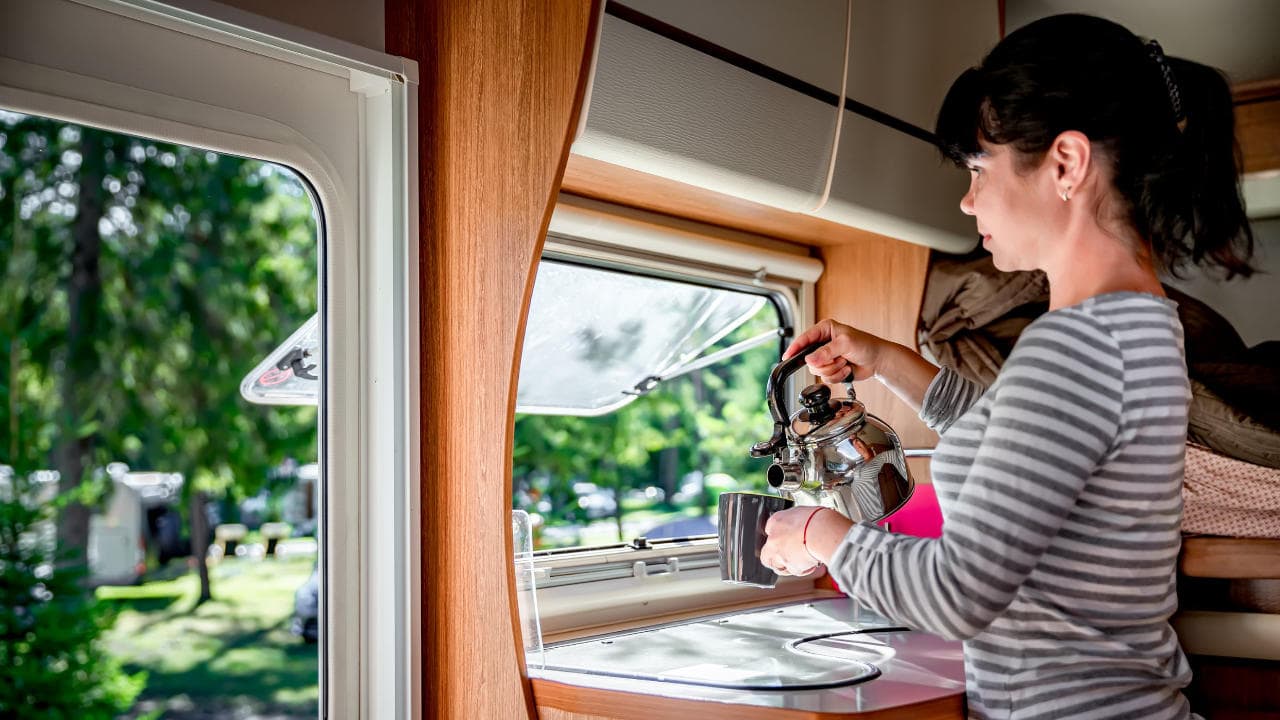 Easy to use
---
The VA-Basic PLUS water filter is the easiest and most effective solution to ensure that fresh and safe drinking water is always available in your motorhome. Once you have installed and connected the VA-Basic PLUS to the fresh water tank, you can start producing drinking water. Simply open the included stainless steel dispensing tap and enjoy the pure and especially soft water. You don't need to do anything more.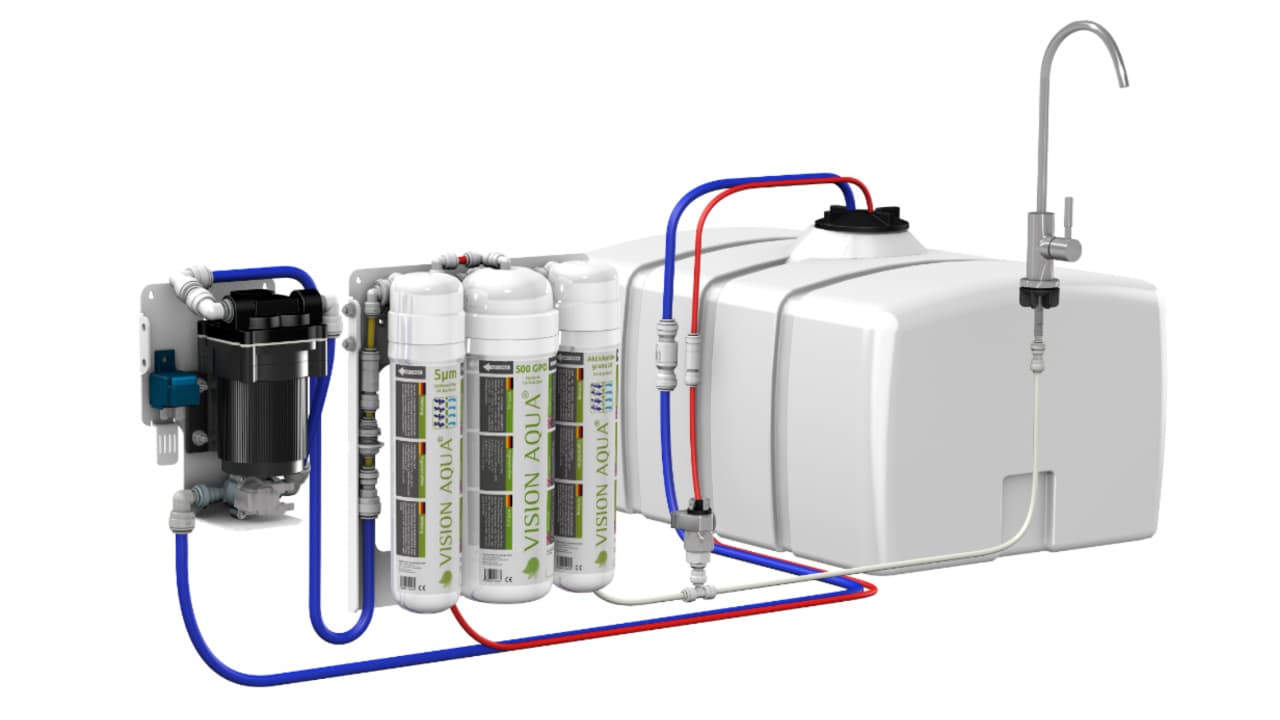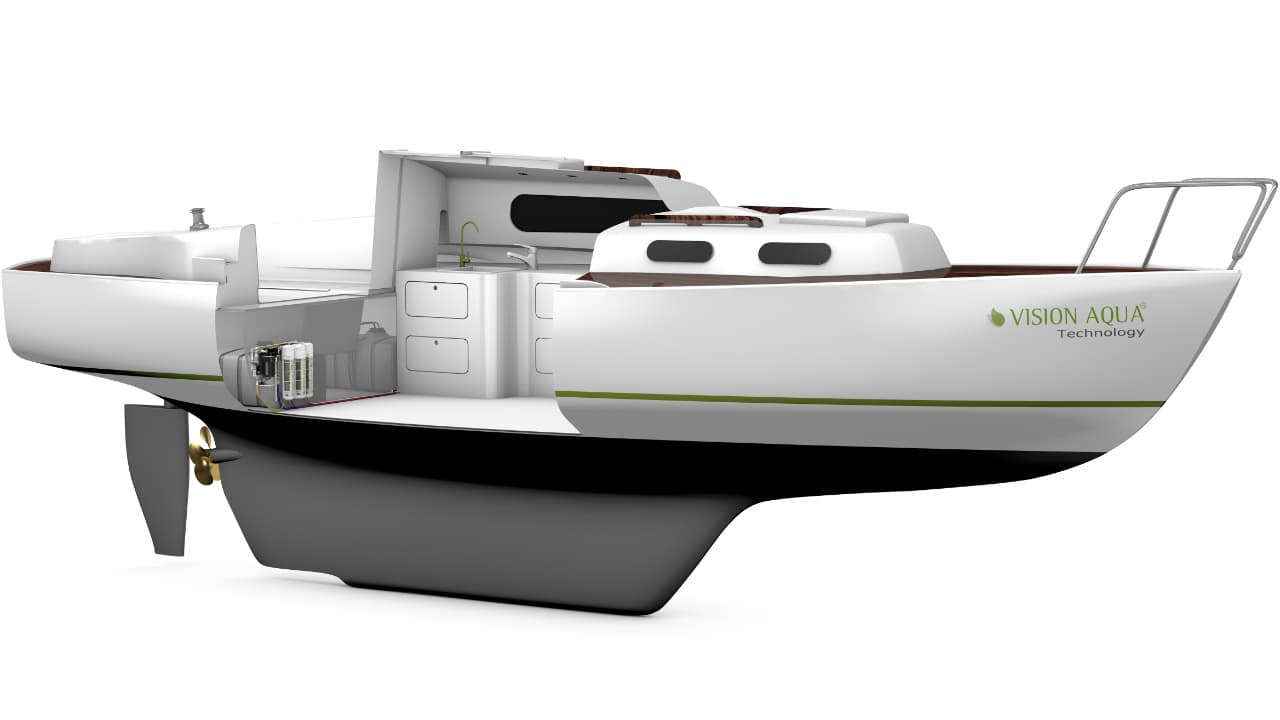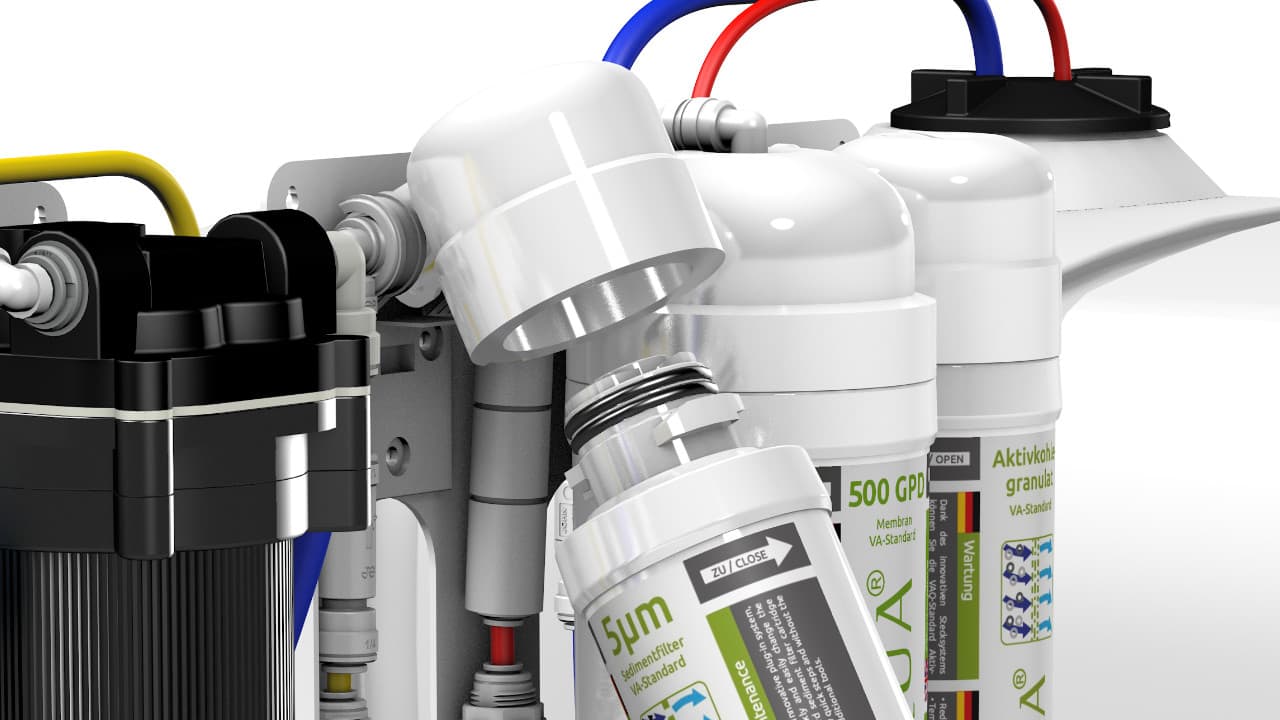 Push & Click filter change - easy and fast
The filter change on the VA-Basic PLUS water filter is very simple and can be done by anyone in just a few minutes. Change the filters in no time with the innovative Push & Click method. This eliminates the need for a complete removal of the VA-Basic PLUS for the filter change.
The connection between the filter cartridge and the filter head is realized by means of a bayonet lock. Under pressure, the connection clicks into place more firmly, making it difficult to release or open the connection. Two mechanical valves in the filter heads lock the water inlet and outlet during filter changes. This prevents water from flowing out of the system uncontrollably and causing damage.
The VISION AQUA® standard filter cartridges are designed to withstand pressure spikes of up to 50 bar without bursting or even popping out of the cartridge head. To ensure this, the cartridges are sealed using friction welding, which allows for maximum strength.
In addition, the replacement filter cartridges have their own seals, which do not need to be cleaned, inspected or replaced during filter changes.
Thanks to the easy filter change, the VA-Basic PLUS water filter can be made winterproof very quickly for the cold season.
Note!
The VA-Basic PLUS motorhome water filter is shipped dry and not flushed! Before use, approximately 10-15 liters of water must flow through the VA-Basic PLUS motorhome water filter.
Product information "VA-Basic PLUS - 24V - incl. installation set and 1-way water tap"
Scope of delivery:
1 x VA Basic PLUS
1 x VA-Standard - 500 GPD Membrane - Filmtec Material
1 x VA-Standard - Sediment-Filter, PP cartridge (pre-filter)
1 x VA Standard - Granulated Activated Carbon Filter, GAC Cartridge (post-filter)
1 x Booster Pump 800 GPD - DirectDrive Brushles 24V - 2 x 3/8" tube outer diameter
1 x Pressure switch - 1-10 Bar - 1/4" external thread - stainless-steel (incl. clamp for assembly)
1 x installation set
1 x 1-way tap, tap with straight connector - 1/4" tube external diameter (set)
Hints!
The system is delivered dry and has not been flushed!
The system must first have produced 10-15 liters of water before it can be used for drinking water production.
| | |
| --- | --- |
| Colour: | White |
| Filter cartridge type: | VA-Standard |
| Input connection: | 3/8" tube OD - John Guest Speedfit |
| Litres per hour: | 60 l |
| Output connection: | 1/4" tube OD - John Guest Speedfit |
| RO-Membrane: | DOW® Chemical FILMTEC™ |
| Ultra-pure water / wastewater ratio: | 1:1 |
| Wastewater recovery: | Yes |
| Weight: | 5,3 kg |
---
Passt sogar in einen VW T5
Bin total begeistert von dem Wasser der filter passt super unter mein Bett. Wasser in den Tank und genießen, egal wie lange ich unterwegs bin, das Wasser schmeckt immer sehr weich und lecker. Zu empfehlen.
Unbedenkliches Trinkwasser an Board
Ich bin über LinkedIn auf den Wasserfilter aufmerksam geworden. Dort wurde er für Boote und Yachten beworben. Da ich weiß, wie es um die Wasserqualität in manchen Häfen bestimmt ist, waren meine Frau und ich schon seit längerem auf der Suche nach einer vernünftigen Trinkwasserversorgung. Leider war bis jetzt nichts vernünftiges mit bei und wir mussten zu Trinkflaschen greifen. Der Nachteil dabei ist, dass sie viel Platz einnehmen, das Gewicht ist einwichtiger Faktor und die Getränke sind auch irgendwann ausgetrunken. Nun habe ich den Wasserfilter installiert und mit dem Wassertank verbunden. Egal welches Trinkwasser nun in die Tanks gefüllt werden, haben wir immer sauberes Trinkwasser.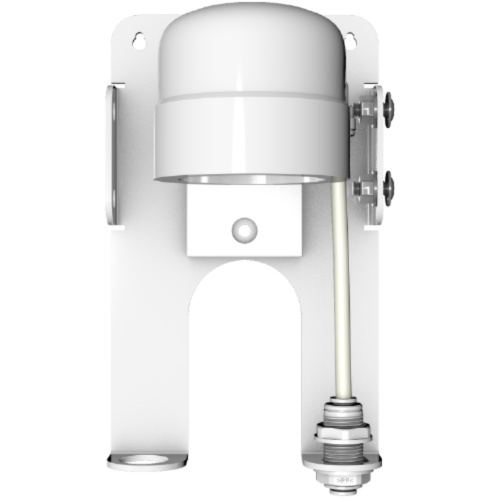 VA Basic | VA Basic PLUS | VanLife - Expansion for additional pre- or post-filter
With the extension for an additional pre- or post-filter, you can adapt and expand your mobile water filter according to your wishes. The system is designed in such a way that it can be mounted on the VA-Basic or VanLife water filter in just a few simple steps.With the VA standard pre- and post-filters, you have several options to get the drinking water you need.Scope of delivery:1 x Bracket for VA standard filter head1 x VA standard - filter head for pre- and post-filter cartridges (already pre-assembled)1 x plastic tube - 1/4" - color: natural, length: 75 mm2 x M6 Flanged Hex Nut with Serration Stainless Steel2 x pan head flange screws 6 x 10 TX 30, stainless steelCan be used with the following VISION AQUA® water filters:VA-Basic - travel water filter set, reverse osmosis water filterVA-Basic PLUS - mobile water filterVanLife - water filter for campers and mobile homesNote:Delivery without cartridge!