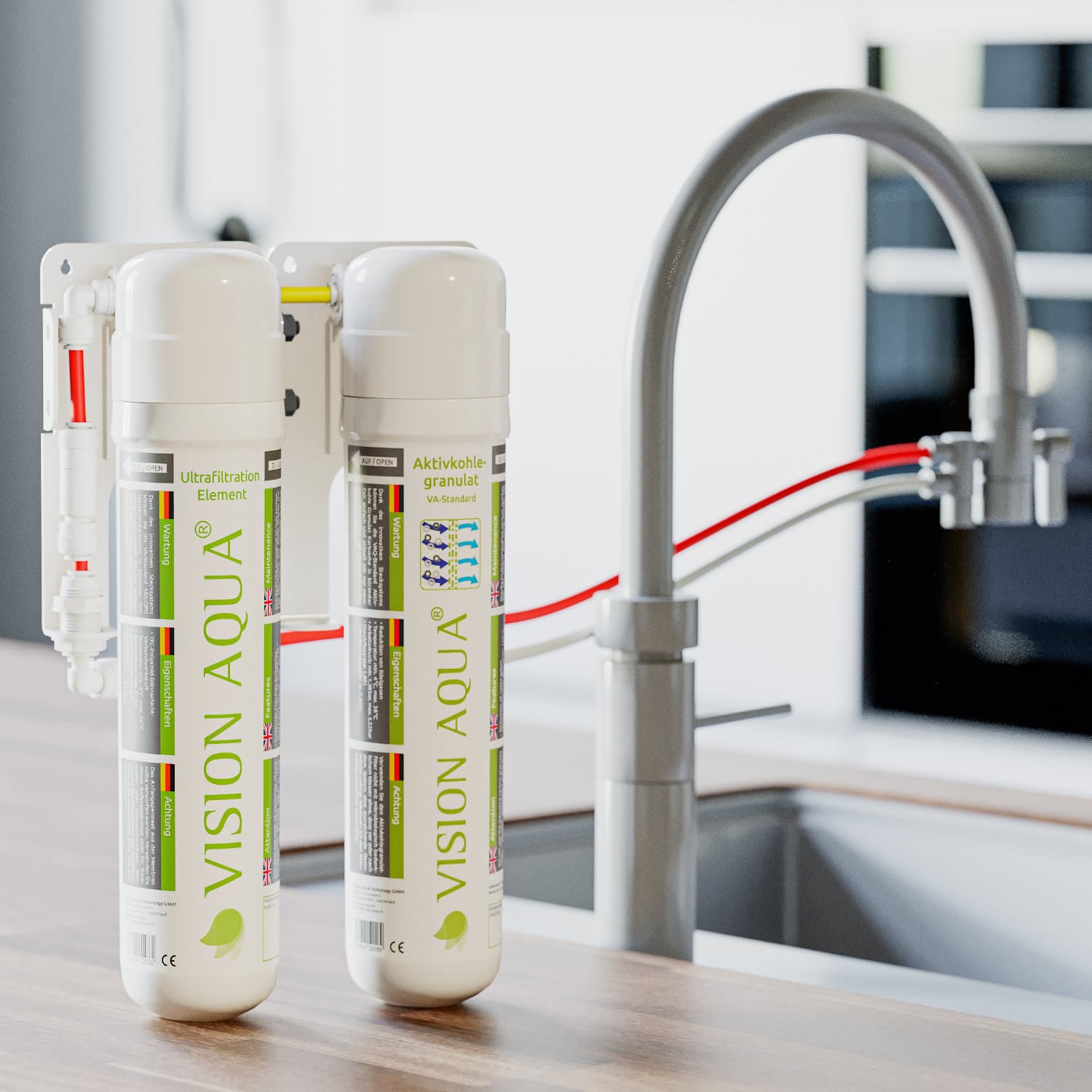 Available, delivery time: 3 - 5 Werktage
Product number:
9000064.1
Manufacturer no.:
9000064.1
Der Wasserfilter – Clean Water Without Boiling
Der Wasserfilter reliably removes bacteria, pollutants, sediment, microplastics, and even odors and noble gases such as chlorine from the water. The installation is easy and the filter only needs to be replaced twice a year. "Der Wassserfilter" is tailor-made and expandable to meet individual needs. Invest in healthier and more environmentally friendly drinking water with VISION AQUA® and order our water filter now for clean and delicious water without waiting.
Choose Your Perfect Water Filter Now
Der Wasserfilter is the perfect solution for those who need clean water quickly and easily. Available in three versions, "Der Wasserfilter" fits perfectly in any kitchen. The countertop version is simply connected to the faucet and filters the water as it flows through
If you have a little more space or prefer a more elegant look, you can opt for our under-sink version, which comes with an additional 1-way stainless steel faucet.
Alternatively, we also offer an under-sink version with a 3-way faucet. The 3-way faucet is particularly practical as it does not require an additional hole in your sink. Instead, you can simply use the connections and hole of your previous faucet.
Der Wasserfilter reliably cleans the water of impurities and pollutants, thus ensuring better water quality and taste.
Der Wasserfilter is the smart solution for clean drinking water at home
Clean drinking water is essential for our health and well-being. But how can we ensure that tap water is really clean and safe? Our solution is "Der Wasserfilter". It offers effective filtration of bacteria and other harmful pollutants that may be present in our tap water. Boiling water is no longer necessary. 
The installation of the water filter is quick and easy. In just a few minutes, it can be mounted to your faucet and ready for use. What's particularly practical is that the water filter can be adapted to your specific needs thanks to its modularity. Our filters are durable and provide effective filtration of pollutants in the long term. In addition, "Der Wasserfilter" is environmentally friendly and sustainable. 
Invest in your health and the environment and choose our water filter with guaranteed "Made in Germany" quality!
Enjoy clean and healthy drinking water at all times - without boiling
Der Wasserfilter eliminates the need for boiling drinking water. With its combination of ultrafiltration membrane and activated carbon granules, it removes impurities such as heavy metals, pesticides, bacteria, and viruses while improving the taste and odor of the drinking water. 
Der Wasserfilter is easy to use and requires minimal maintenance. It can be directly connected to a water tap and ensures that clean water is always available. With our filter, you can rely on healthy and clean water and never have to boil water again. 
Another advantage of our water filter is its environmental friendliness. By reducing plastic bottles, environmental pollution is reduced. Invest in our water filter today and enjoy the convenience and safety of always having access to clean and healthy drinking water.
Tailored for your drinking water: The "expandable" water filter
High-quality drinking water is an important part of a healthy lifestyle. "Der Wasserfilter" offers a reliable and effective solution to filter bacteria and other pollutants from your water. But did you know that you can customize the water filter to your specific requirements? "Der Wasserfilter" offers you a tailored solution that is specifically designed to meet your needs. 
If your water has a high level of calcium, we recommend using an additional sediment pre-filter to extend the life of the ultrafiltration filter and ensure optimal filtration. If the water is chlorinated, an activated carbon block filter can be connected as an additional post-filter to effectively filter the chlorine from the drinking water. 
"Der Wasserfilter" is not only environmentally friendly and sustainable, but also a real alternative to other products on the market. We are proud of the quality of our "Made in Germany" products and the high effectiveness of our "expandable" water filter. Choose quality and effectiveness now when it comes to your drinking water.
Cost-effective Solution: Filter Replacement only Twice a Year!
If you are looking for a cost-effective yet effective solution for water treatment, "Der Wasserfilter" is the perfect choice for you. The filter cartridges used have been specially designed to ensure a long service life. Unlike other filters, they only need to be replaced every 6 months, which is made possible by the use of high-quality filter media.
Our filter ensures effective cleaning of the water while also extending the life of the filters, as they need to be replaced only infrequently. Unlike many water filters on the market that require a filter change every 2 to 4 weeks, "Der Wasserfilter" thus offers a cost-effective and time-saving solution for cleaning your water.
By purchasing our high-quality product, you not only save time but also costs for filter replacement. "Der Wasserfilter" is thus a worthwhile investment for anyone who values effective and cost-efficient water purification.
Der Wasserfilter – Which variant suits me?
---
"Der Wasserfilter" is the perfect solution when you need safe and clean water quickly. With its three variants, it is equipped for any kitchen situation. You can see how the individual variants are installed here.
Der Wasserfilter - on the table
"Der Wasserfilter" is available in a countertop version, which can be easily installed on your existing kitchen faucet using the included adapter. Once you turn on the cold water tap, the filter will remove harmful substances from the water, providing you with fresh and clean drinking water. Its compact size takes up minimal space on your countertop, while still being highly effective. The standard version of "Der Wasserfilter" is a reliable choice for any household that values their health and the environment.
Der Wasserfilter - under the table, incl. 1-way water tap
If you want our water filter to perform its task in secret and the filtered water to be dispensed through a separate outlet, then the under-sink variant including a single-way water faucet is the right choice for you. The included connection adapter is simply attached to the combo angle valve to supply cold water to the water filter. After filtration, the purified water flows through the natural-colored pure water pipe and reaches the 1-way stainless steel dispensing faucet on the sink, where it is immediately available to you.
Der Wasserfilter - under the table, incl. 3-way water tap
The most practical option is "Der Wasserfilter" with a 3-way faucet. "Der Wasserfilter" is simply installed under the sink and the existing kitchen faucet is replaced by the 3-way faucet. This not only provides an elegant and space-saving solution, but also cold, hot, and filtered water from one faucet. The 3-way faucet offers the perfect combination of functionality and stylish design that seamlessly fits into any modern kitchen.
Easy and Safe Filter Replacement
"Der Wasserfilter", like all VISION AQUA® water filter systems, features filter cartridges with the innovative Push & Click system, which makes filter replacement quick and easy. The connection between the filter cartridge and filter head is made through a secure bayonet lock that snaps firmly into place under pressure, preventing accidental disconnection. 
Two mechanical valves in the filter heads ensure that the water inlet and outlet are securely locked during filter replacement to prevent uncontrolled water leakage and damage. In addition, VISION AQUA® standard filter cartridges are sealed by friction welding for maximum strength and resistance to pressure spikes of up to 50 bar. 
And the best part is: Replacement filter cartridges have their own seals that do not need to be cleaned, inspected, or replaced during filter replacement, making the process even faster and more straightforward. With the VISION AQUA® water filter, you have a reliable and practical helper for clean water in your household. 
Note!
Der Wasserfilter is delivered dry and not flushed! Before use, approximately 5 liters of water must flow through the water filter.
Product information "Der Wasserfilter - on the table, incl. tap connection adapter"
Scope of delivery: 
1 x Der Wasserfilter 
1 x VA Standard - Ultrafiltration Filter, UF Cartridge 
1 x VA Standard - Granulated Activated Carbon Filter, GAC Cartridge 
2 x filter cap - suitable for VA standard filter cartridge 
1 x M24 OD to M22 OD - water filter faucet adapter 
1 x M24 OD to M22 OD long version - water filter faucet adapter 
1 x Plastic tube for waste water - 1/4", 6.35 mm - color: red - John Guest, length: 1,5 m 
1 x Plastic tube for ultrapure water - 1/4", 6.35 mm - color: natural - John Guest, length: 1,5 m 
Hints! 
The system is delivered dry and has not been flushed! 
The system must first have produced approx. 5 liters of water before it can be used to obtain drinking water. 
| | |
| --- | --- |
| Filter cartridge type: | VA-Standard |
| Input connection: | M22 inner thread |
| Litres per hour: | 180 l |
| Weight: | 1,5 kg |
The water filter - connection set dishwasher
The dishwasher connection set is mounted between the angle valve and the dishwasher. The water filter can be connected via the additional branch. This allows you to enjoy safe, clean and tasty drinking water while still being able to run your dishwasher with regular tap water.The connection set consists of:1 x T-Connector 2 x 3/8" tube OD to 3/8" nozzle - John Guest3 x locking clip - 3/8" tube OD1 x locking clip - 15mm tube OD - John Guest1 x Plug-in reducing connector - 15mm nozzle to 3/8" tube OD - John Guest1 x Screw-in connector - 15mm tube OD to 3/4" outer thread - John Guest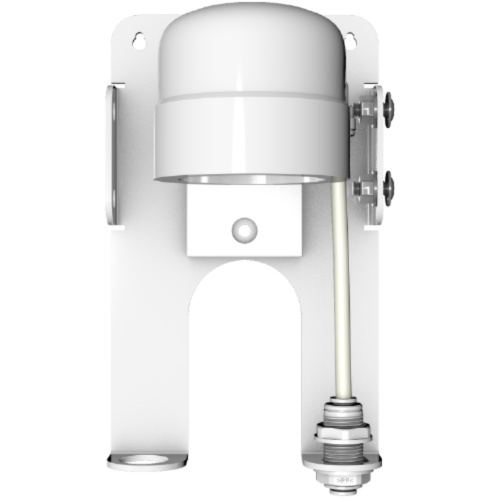 VA Basic | VA Basic PLUS | VanLife - Expansion for additional pre- or post-filter
With the extension for an additional pre- or post-filter, you can adapt and expand your mobile water filter according to your wishes. The system is designed in such a way that it can be mounted on the VA-Basic or VanLife water filter in just a few simple steps.With the VA standard pre- and post-filters, you have several options to get the drinking water you need.Scope of delivery:1 x Bracket for VA standard filter head1 x VA standard - filter head for pre- and post-filter cartridges (already pre-assembled)1 x plastic tube - 1/4" - color: natural, length: 75 mm2 x M6 Flanged Hex Nut with Serration Stainless Steel2 x pan head flange screws 6 x 10 TX 30, stainless steelCan be used with the following VISION AQUA® water filters:VA-Basic - travel water filter set, reverse osmosis water filterVA-Basic PLUS - mobile water filterVanLife - water filter for campers and mobile homesNote:Delivery without cartridge!